Hi there, people. It's a beautiful day, isn't it? The sun's rays are warming the Earth, the birds are singing their jolly songs, the zinnias and tulips are beginning to poke their heads from the soil, and
SPRING BREAK IS HERE! OH YEAH, BABY!
Ahem.
You know, I really shouldn't be that excited. It's not like I'm having an epic trip to DisneyWorld or going on some insane cross-country road trip. I'll be right here in New York City the entire time. Plus, I have 30+ worksheets for science. And, as soon as we come back on April 27th, we'll be hitting the books and taking dumb state tests and stuff. We have a few in May and a few in June. Kill. Me.
I'm so unprepared for the tests this year that it's not even funny. Last year, for English, I got a perfect score. 100%. Nothing wrong at all. I was in shock. And I did amazing in Math as well. But this year? Ha. I won't be getting any perfect scores, I can tell you that now.
Ah, well. I shall pray for a good grade...
GUESS WHAT. We had our third and last parent-teacher conference of the year yesterday. I was very upset when I found out that my parents weren't going because they had a doctor's appointment. I really wanted my report card.
So I thought of an idea.
The second my mom came home, I asked her, "Can Yns be my 'gaurdian' for parent teacher conference? Pleeeeeeeeeease?"
She looked confused. "Yns? Your brother? He's only a year older than you."
At that moment (it was around 5:30), my brother walked into the house.
"Hey everyone! I'm home!" he said, being his usual happy self.
So we talked it over with him, and my brother immediately agreed to go. (He's heard a lot about my school -- he's intrigued by it.) So pretty soon after that, we left.
While walking, we passed the

creepy, pedophilic ice cream truck guy from this post.

My brother knows about him from hearing my stories, so he eagerly said, "Can I stick the middle finger at him?!"
"No," I said sternly.
"But why not?" he whined.
"We don't need to cause any more trouble with the creep, okay?" As an afterthought, I added, "And plus: That's rude!"
Yns gave me a look. "Yeah, like what he does with all the other girls here isn't rude, right?"
I stayed silent. I think I'll let him do it next time we see him.
Anyways. We got to school quick enough and were waiting outside my homeroom/math teacher's room since he was with a student. There, I saw my friend Logan.
"Hey, Logan!" I chirped happily.
"Hey, Eeshie..." I noticed he was sweating and fidgety.
"What's wrong?"
"I'm so nervous for my report card!" he said. Then he noticed my brother standing there, all tall and cool-looking, I guess. He nodded at my brother, and my brother nodded back. I was just watching them nod at each other, wondering why guys can't have some other form of greeting. It has to be a nod?
"You're lucky you came with your brother. I came with my dad. My dad's going to kill me if I get a low grade."
"Oh, he won't..." I said, saying my usual words of comfort.
At this time, our homeroom/math teacher Mr. Goldburg finished, so he let us both come in and get our report cards. First he gave out Logan's. He leafed through the papers slowly, trying to find mine. My heart was beating like crazy, and I was scared that the evil Ms. Mandies had dropped my grade even more this marking period. Remember our lovely little conversation last marking period?
Finally, Mr. Goldburg found it. And then he said the magic words, "Eeshie, I think you got the highest average out of everyone in the class."
I could not believe it. At all. I could not believe it at all!
"Wait. It has to be a mistake!" I said breathlessly, getting excited because well, I couldn't help myself. "I got more than MH?!"
He nodded.
"More than

Lydia?!?"

I screeched (Lydia's the creepy list person, just reminding you.)
"Eeshie," he said carefully. "You got more than everyone."
WHOOOOOOO!!!! WHOO-HOOO!! WHOOP WHOOP! UH-HUH! OH YEAH! VICTORY IS MINE! WAAAAHOOOOO! WOOT WOOT! PARTY IN THE U.S.A.! YODEL YODEL! YEAH-YA!
I went insane. I started saying, "Oh my gosh!" over and over and over and over again until I'm pretty sure everyone within a ten foot radius was annoyed with me. I was gushing. I was ecstatic. And then I grabbed my report card from Mr. Goldburg's hands.
Compared to

my grades from the last marking period

, I did a lot better.
Yearbook-95%
English-98%
Spanish-99%
Social Studies-97%
Math-96%
Gym-95%
Science-100%
And now behold my weighted average:

102.02%
Ahhh...the sweetness of success. I'm #5 in my whole grade. #1 is 102.73. Pshh. Whatever. I'm happy.
The rest of the night was all a happy blur, except for the part when I met my friend's hot older brother. Who knew, right? I'm pretty sure he could tell I was drooling on him. But he was so quiet. When he and my brother shook hands (Not sure why they were so formal), he talked so quiet. It was...weird. Today in school, I asked my friend why he was so quiet, and she said he was nervous around me.
:(
What did I do?!? I didn't do anything! I feel bad now. Still, it doesn't change the fact that he's super hot.
It was a happy day. My brother and I walked home and bought french fries from the local deli. They were hot and steamy. They could use a little more salt. But they were golden crispy and they weren't greasy at all and it was just pure heaven.
So it looks like I'm almost at 100 followers. Almost, but not quite. I guess it's time for me to follow in Christopher's method: You provide a link to my blog, I provide a link to yours.
God, I feel like I'm selling something.
Have you ever tried a gyro? They're scrumptious. You must try one now. It's so worth it. I was eating one on the crowded streets a couple weeks ago in the middle of shopping, and I was just casually leaning against the wall of a store, since food wasn't allowed inside. My brother left my side for a few seconds to throw something out, and in that short time, three black guys came up to me.
"Give me a bite!" One of them barked/demanded. Then they all erupted in laughter.
I raised my eyebrows, but then smiled cooly. They left.
My brother came back and I told him what happened. He got all fired up. "If they come again, I'll punch them in the face!"
I actually like having a 102.02 average. You know how much respect I've gotten?!? It's so cool! I mean, I got some weird stuff from my
pedophilic librarian Mr. Lucas
which I don't feel like mentioning because he's just so gross and I already have a ton of pedophilic people creeping around on this blog, but it's still pretty cool.
And I only embarassed myself once so far! A new record! But it was by accident. I saw my name as #5 on the Gold Honor Roll list and started doing this crazy little dance with my friend, singing about my being #5. Then I turned and saw the principal watching me, amused. I stopped abruptly.
Who do you agree with in this picture?
Looks like it's time for a....
GLEE PHOTO FLASHBACK!
Okay, okay. I don't watch Glee at all, but I have to admit, they sing pretty good. And I saw some of these photos in an article that caught my attention. Naturally, I just had to show you guys. So. Here it is.
Lea Michele (Senior Year, 2004)
School: Tenafly High School in Tenafly, NJ
Activities: Honors Choir
High School Memory: "I kind of floated around to all different groups, but it was very clear in my high school that if you were not from a wealthy family or if you were not playing a sport, then you were not cool. But I got by."
Senior Year, 2004
Now
Dianna Agron (Senior Year, 2004)
School: Burlingame High School, Burlingame, CA
Activities: Yearbook, Homecoming Princess
Yearbook Quote: "Dance like no one's watching, love like you've never been hurt and live like it's heaven on earth." --Mark Twain
High School Memory: "I wasn't cool in high school. I did belong to many of the clubs, so I had friends, but I didn't know what to wear or how to do my hair."
Senior Year, 2004
Now

Jane Lynch (Junior Year, 1977)
School: Thornbridge High School, Dalton, IL
Activities: Softball, basketball, choir
High School Memory: "I absolutely relate to the 'Glee' kids, although I didn't get bullied. I sort of walked that line. But choir was my favorite part of the day. So I relate to those kids who got picked last for stuff."
Junior Year, 1977
Now
Mark Salling (Senior Year, 2001)
School: Lake Highlands High School, Dallas, TX
Activities: Wrestling, rugby, basketball
High School Memory: "I was a social butterfly with a rebellious spirit. I grew my hair out and decided I wanted to be a musician. I was kind of a hippie."
Senior Year, 2001
Now
Heather Morris (Senior Year, 2005)
School: Desert Mountain High School, Scottsdale, AZ
Activities: Homecoming Queen
High School Memory: "I was friends with all the popular girls, because I was popular in middle school. But I was a dancer and didn't want to be a follower, so I was sort of the random girl who was friendly and nice to everybody."
Senior Year, 2005
Now
Matthew Morrison (Senior Year, 1997)
School: Orange County High School of the Arts, Los Almitos, CA
Activities: Soccer, theater
High School Memory: "I was kind of that guy. I was prom king, I was president of my high school, and I went to a special school in the afternoon. I did all my academics and then from 2 p.m. to 6 p.m., I went to a performing-arts high school. I loved it."

Now
Kevin McHale (Senior Year, 2007)
School: Academy of the Canyons, Santa Clarita, CA
High School Memory: "I hate being categorized so I intentionally didn't belong to a clique. I was friendly with everyone."
Senior Year, 2007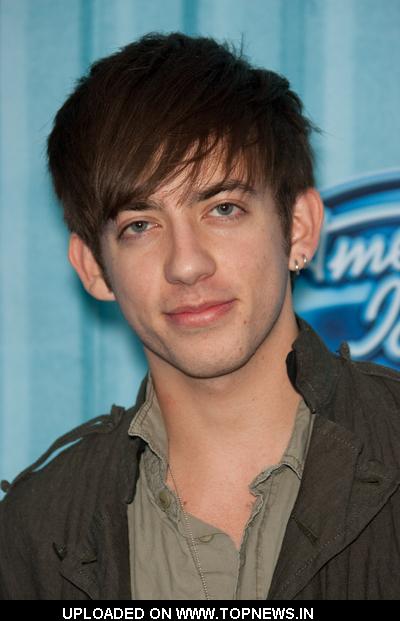 Now
Chris Colfer (Junior Year, 2007)
School: Clovis East High School, Clovis, CA
Activities: Debate, Theater
High School Memory: "I was bullied in high school like Kurt, an outcast, made fun of and teased every day. My closest group of friends were the lunch ladies. I'm still very close to them."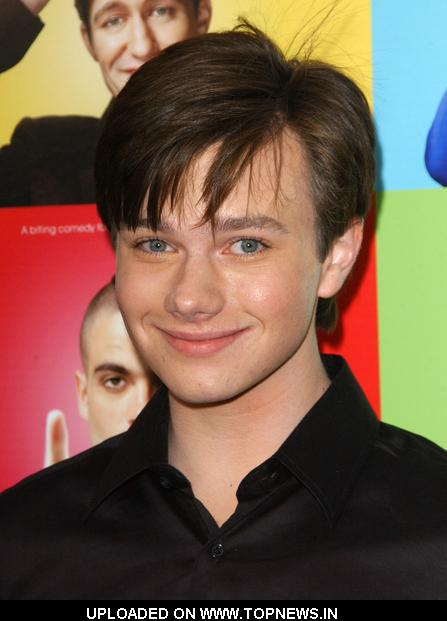 Now
Amber Riley (Freshman Year, 2001)
School: La Mirada High School, La Mirada, CA
High School Memory: "School was like being on the outside looking in. I didn't fit anywhere."
Freshman Year, 2001
Now
Jayma Mays (Senior Year, 1997)
School: Grundy High School, Grundy, VA
Activities: Cheerleading
Favorite Subject: Math
High School Memory: "We had a program called forensics [in high school] -- it was kind of an extracurricular activity. You'd perform monologues after school and compete against other teams. That was my first real taste of performing in front of people, and I loved it."
Senior year, 1997
Naya Rivera (Freshman Year, 2002)
School: Valencia High School, Santa Clarita, CA
Activities: Choir
High School Memory: "[I was teased] all the time -- for my hair. Growing up, I had an unruly mane that would never lay flat on picture days."
Freshman Year, 2002
Now
Chord Overstreet (Senior Year, 2008)
School: Middle Tennessee Home School Association, Nashville, TN
Activities: Football
High School Memory: "I was definitely always goofing around. I was always trying to crack jokes. I was always saying stupid things without really thinking about them."
Senior Year, 2008
Now. ...My God, he's hot
Jenna Ushkowitz (Senior Year, 2004)
School:
Holy Trinity High School, Hicksville, NY
Activities: Choir
High School Memory: "I was a typical type-A go-getter, vice president of my glee club and class president."
Senior Year, 2004
Now
Darren Criss (Junior Year, 2005)
School: St. Ignatius College Prep, San Francisco, CA
Activities: Theater
Yearbook Quote: "Aarrhhhhunnngh!!!" --Chewbacca
High School Memory:"Dalton Academy is strangely almost exactly like the school I attended. My blazer is the exact same as my high school blazer, the set is a replica of my high school's halls and classrooms. It is eerie."
And there you have it. Glee in their high school years. Who do you think changed the most dramatically?
Here's one last story before I leave: Up until I was seven, my plan/dream was to become an artist. I loved to draw, and I thought having a job where you color and doodle all day would be better than anything else. What else could someone want in their job? Then, I soon realized that I had a natural talent (and not to mention extreme passion) for writing.
So I incorporated my love of writing with my plan/dream. I was to be a writer and an illustrator. This plan/dream stayed with me up until the fifth grade.
I realized then that I wasn't all great of an artist as I thought I was. And plus, I realized that I enjoyed writing wayyyyyyyy more. My plan/dream chopped off illustrator from it and was now just to become a writer.


This plan/dream stayed intact for a long, long time. All I did was write. I wrote novels on Microsoft Word (my longest being 323 pages. Whoo!) and I told everyone around me that I was to be a writer when I grew up. If I had a few spare seconds, I'd look up the nation's best writing programs in universities. Also, I'd invest my money in books that help you write and give you ideas, and I'd read online about ways of getting yourself published. I was so entirely focused on this plan/dream of mine, and I wouldn't allow anything to stop me.


That was, of course, until last year.
Last year was the first year that I began not hating science. I didn't love it. I didn't even like it that much. But I no longer hated it. One thing was made clear, however: I had a natural talent in science as well. Without even trying, I'd get 100%'s.
And then this year came, and I am absolutely in love with science class. It's my favorite class.
It was this year that I switched gears. I decided that I was to be something science-related. I discovered that unless you write about magical adolescents or romantic vampires, writing will not be well-paying. I soon grew worried, because one of my biggest dreams is to have so much money that I can buy a huge house when I'm older to keep my parents safe and comfortable, and also to never have my children go through rough times in terms of money, as I've had to do in my life so far, even though I'm young.. I realize that this dream is selfish, but I want it so bad.
Plus, something science-related sounds more noble than writing. Can't you just imagine me at a cocktail party carrying a wineglass with my hot doctor husband's arm wrapped around my waist, revealing casually that I'm a neuropharmacist?
Ahh...can't wait.
So yeah. I've decided (as of now) that I'll be a neuropharmacist instead of a writer. I'm a bit sad, but I still have that selfish dream of mine in mind. Besides, I love studying neurology.
What do you guys think? Science or writing? Writing or science? Neuropharmacist or novelist?
One last thing. I promised

Noah Brown

that I'd link to his blog Brown's Eye. And look at that! I HAVE! I've only followed his blog for a few days so far, but I can already tell that it's awesome. I love it (Don't tell him I said this - It'll get to his head). He's funny in this really nonchalant way and makes jokes left and right. I think that's what makes him so memorable. He throws a joke at you, just out of nowhere. Expect the unexpected with Noah Brown, people. Expect the unexpected.
And without further ado, here's Snoop Dog attending The Last Supper.